Amazing activities in North Wales that are all about thrills, a rush of adrenalin and dare we say it a little bit of nervous excitement!
Yes, we're talking about the range of action-packed exhilarating attractions and activities the region has now become famous for the world over.
So if you are looking for a fun-filled, tingle-making adventure here's where you need to be going.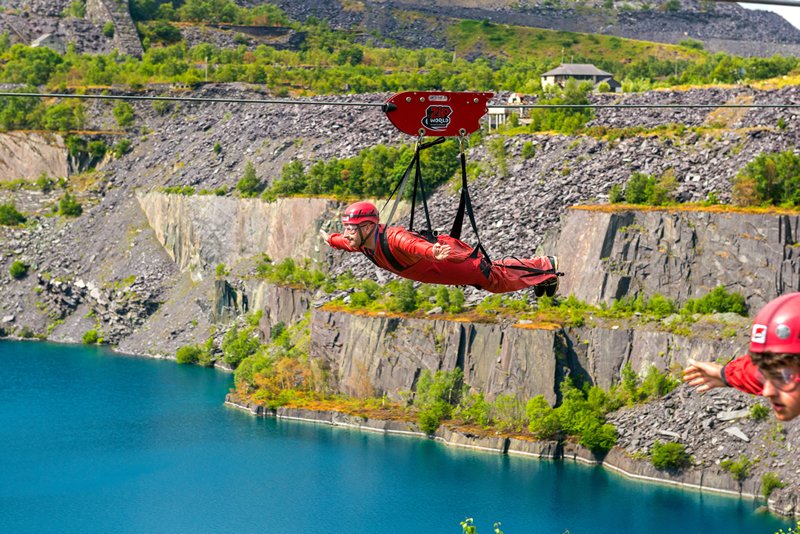 Zip World Velocity
Want to know what it's like to fly?  Then Zip World Velocity is the nearest you'll get as you're lying down hurtling along head first at 100mph – that's as fast as a falcon or a swift!
Not surprisingly Zip World Velocity is the fastest zip line in the world and at a mile long, it's also the longest zip line in Europe, as it takes you flying 500ft over a disused slate quarry for an exhilarating ride.
Your two hour experience starts though with a taster on the Little Zipper.  Taking you to around 40mph at a height of 72ft this is a great nerve calmer and confidence booster before you're transported by truck to the big one.
Velocity is definitely the ultimate adrenalin-pumping attraction, and if you dare to open your eyes you'll be rewarded with the most spectacular views of the North Wales coastline and beyond.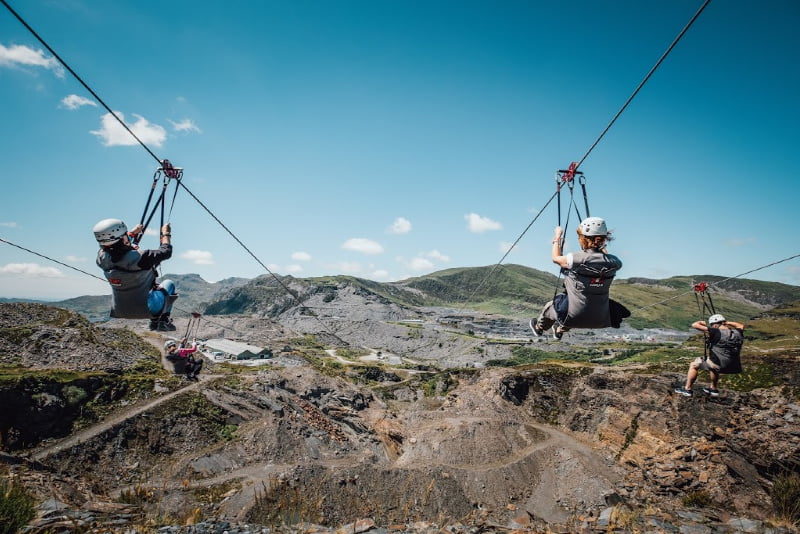 Zip World Titan
While Velocity has two lines, Zip World Titan has four so it's the perfect zip line for sharing with your friends or family.
Titan is also the largest zip zone in Europe which takes you over a journey of three zip lines – Alfa, Bravo and Charlie – travelling over 6,500ft over moor, mountain and mine, reaching speeds up to 70mph.
Unlike Velocity, you're in a seated position and again the views of Blaenau Ffestiniog and the valleys are breathtaking.
Zip World Caverns
For those that dare to be a bit more adventurous or want to find their inner Harrison Ford or Karen Allen for an Indiana Jones-esque adventure, then head to Zip World Caverns.
This underground attraction is based in a disused slate cavern boasting the world's largest fully underground zip line, as well as a host of rope bridges, ferratas (iron paths) and tunnels, which culminate in one mighty impressive ending as you navigate a 26ft long gap in the rock with a choice of either "walking the line" and scaling the 82ft drop using just a a 12mm wide rope to stand on, or inch your way swing-by-swing using the 14 monkey bars to reach the "stairway to heaven", 36 steps which take you to the highest point on the Caverns course, 98ft above ground for your final challenge of the steepest zip wire in the UK.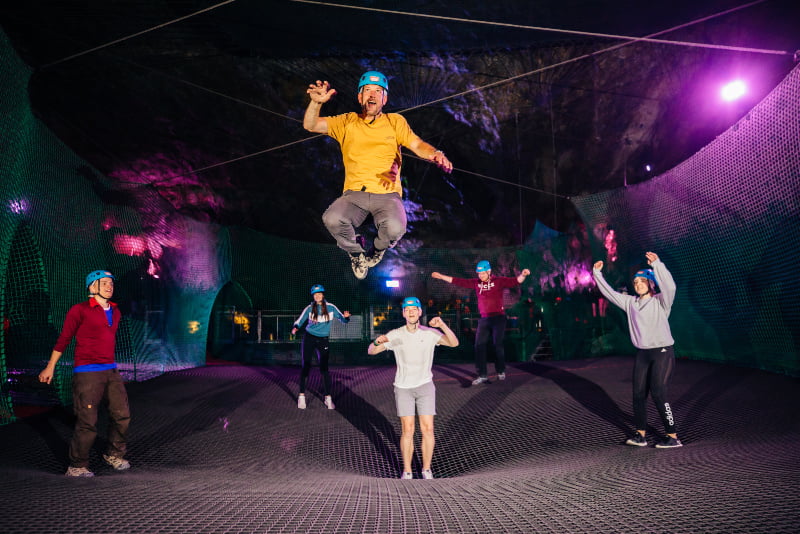 Bounce Below
If you love trampolining, then
Bounce Below
takes your jumps to a new level as this all-weather attraction is a series of giant trampolines, walkways, slides and tunnels suspended in an historic disused slate cavern which is twice the size of St Paul's Cathedral.
The world's first subterranean playground is all about playing, rolling, jumping and bouncing as you navigate your way aided by a technicolour and vibrant light display.  This is a thrill a minute and if you want to know more, read our blog written by two of our receptionists who went to test it out.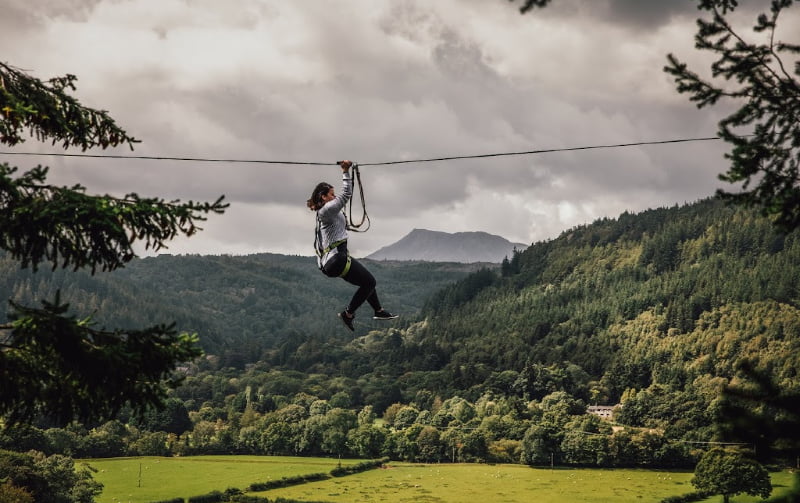 Zip World Fforest
If you want a full day out of action-packed adrenalin-fuelled fun then we recommend Zip World Fforest which is made up of six amazing activities:
Treetop Nets allows you to run, bounce and leap 60ft high in the trees as you navigate your way round the three bounce zones on a series of nets and tunnels.  With the longest net walkway in Europe winding through 820ft of woodland, this is North Wales' newest bounce sensation.  Read our blog to find out more.
Bring out your inner Tarzan or Jane as you take on the Zip Safari as you journey through the canopy of the trees on 23 zip lines and 6 other rope course elements.  The highest point is 60ft and the total length of the course is over 1,800ft.
Towering over 100ft is Plummet Tower, home to the worlds' highest powerfan tree parachute simulator.  Ascending the Fforest Tower is no mean feat on its own but the panoramic view from the top is well worth the climb before the jaw dropping descent!
While Skyride, Europe's highest and first 5 seater Giant Swing will leave you truly breathless as you are hoisted over 80ft high into the air before being released to swing out over the magnificent Conwy Valley.
New this year is the Fforest Coaster.  The UK's only Alpine Coaster takes you on a toboggan ride in the heart of the woodland flying through the trees at an exhilarating speed.
Treehoppers is a dedicated activity for 7 to 12 year olds, allowing them to explore at their own pace and it has so many elements including bridges, balancing beam and a zip line that you're guaranteed a beaming smile on their face!
Go Below
Go Below is another underground adventure that will see you zip lining through caverns, climbing a vertical shaft, boating across a lake, traversing over an abyss, scaling a waterfall and abseiling your way down to the deepest point in the UK.
This staggering activity takes you through some of the world's most spectacular abandoned mines for an adventure that many people have called the greatest trip of their lives.  With three adventures to choose from – the Challenge, Extreme and Ultimate Extreme, there's a heart thumping, pulse jumping adventure for everyone.
Pleasure Flights
Experience the thrill of flying while enjoying the spectacular scenery of Snowdonia National Park and the coastline of the Great Orme and Llandudno with a pleasure flight by plane or helicopter.
You can choose from a range of flight times according to the flight path, and can also have a trial lesson.
All flights are from Dinas Dinlle, Caernarfon Airport. Please visit Caernarfon Airport's website for more information or to contact them to book your flight. Please note flights are subject to suitable weather.
Caernarfon Airport is only 36.6 miles (approx 50 minute drive) from the hotel.
Adventure Parc Snowdonia
Adventure Parc Snowdonia (previously known as Surf Snowdonia) has the longest man-made surfable waves on the planet where you can freesurf or have surfing lessons.
Kite Surfing
The prevailing winds in North Wales make this region a great place to learn to Kitesurf. We recommend heading over to FunSport in Rhosneigr as they offer a range of lessons from one hour to five hours on a one to one basis or in a group. They also offer Paddle Boarding and windsurfing tuition.
Rhosneigr is under 40 miles (approx 50 minutes) from the hotel.
Great Orme Vertical
Llandudno's Great Orme is a spectacular limestone promontory that rises 679 feet above sea level. It offers some of the most accessible natural adventure terrain in the region so let Great Orme Vertical take you on an adventure with its full range of climbing and mountaineering activities.
Do you want to abseil 100 metres vertically above the sea? Would you like to go to Rock Climbing? Or how about Sea Level Traversing and Scrambling?
Great Orme Vertical offers instruction in Rock Climbing, Sea Level Traversing and Scrambling activities for all levels of ability which be in groups or private sessions.
Activities include all specialist equipment, fully qualified instruction and comprehensive insurance cover.
White Water Rafting
Take on the challenging Afon Tryweryn while White Water Rafting at the National White Water Centre which will have you and your crew being swept through the crashing waves and boulder-strewn rapids.
Rafting sessions range from a fast-paced and exhilarating ride on the grade 3-4* Upper Tryweryn to a relaxing river journey on the grade 2-3 Lower Tryweryn.
The Centre also offers Canyoning, which will test your skills and bravery to the max as you climb, scramble, slide and swim your way through a gorge, and Paddling as it offers excellent conditions for canoeing and kayaking throughout the year.
Please visit the National White Water Centre website for more information or to make a booking.
The National White Water Centre is just under 40 miles (approx 1 hour drive) from the hotel.
Bodyboating
Bodyboating combines elements of surfing, kayaking and swimming and it's a completely unique, memorable and accessible way to experience the water.
The boats are designed to be used by anyone of any skill level. and they can be used in the sea on a lake or down a river. Just lie down, paddle with your hands, and hold on through the rapids!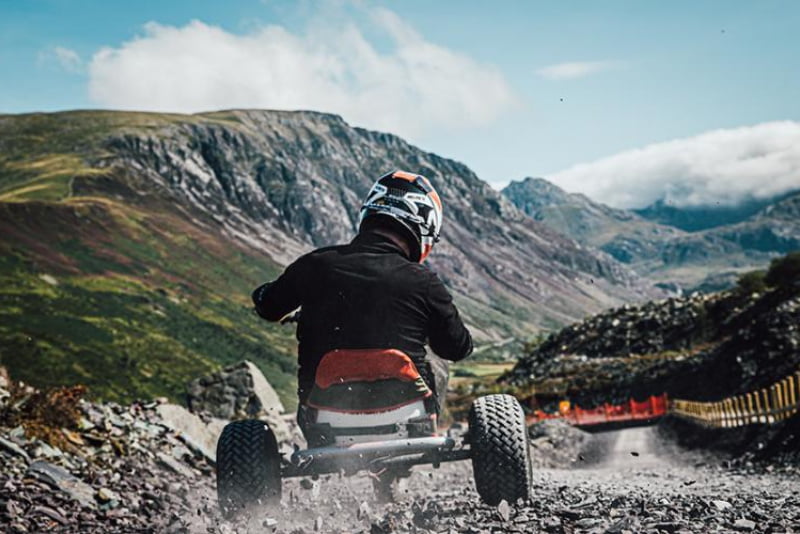 Zip World Quarry Karts
Have a gravity-fuelled adventure with Zip World's Quarry Karts, the UK's only mountain kart experience.  Explore the unique dirt track as you travel down the Penrhyn Quarry mountains, alongside the world's fastest zip line, and enjoy the excitement of twists and turns, chicanes, banked corners and tunnels as well as incredible views on the Snowdonia mountain range and beyond.
Karters get two runs down the track which is 3km.  Each run lasts approximately 5 minutes but the full experience duration is 2 hours.
To find out more and book your experience please visit Zip World Quarry Karts website.
Zip World Quarry Karts is only 22.9 miles (approx 30 minute drive) from the hotel.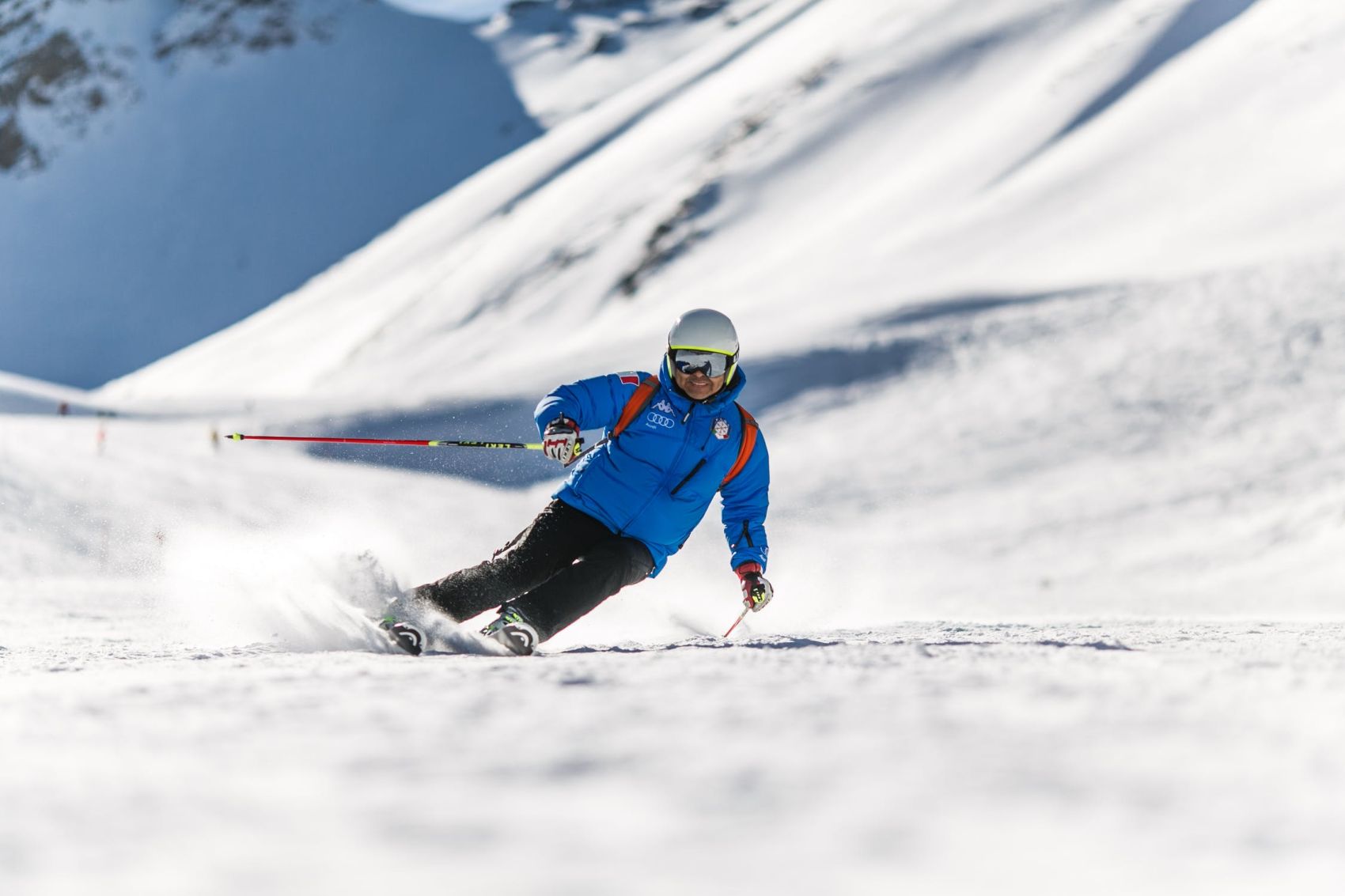 Llandudno Snowsports Centre
You don't have to venture far, as right on our doorstep Llandudno Snowsports Centre offers fantastic fun with the Cresta Toboggan Run, the longest in Wales, a scenic Permasnow Ski slope for skiing, snowboarding or spinning around in the crazy Sno Tubes.
Whatever adventure you're looking for you'll find it in North Wales, the outdoor playground of the UK so why not book your action-packed adrenalin-fuelled break now.