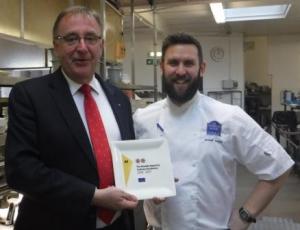 The Imperial Hotel in Llandudno has been awarded a coveted second AA Rosette for Chantrey's Restaurant ranking it one of the finest restaurants in North Wales.
Already a holder of one AA Rosette, the second rosette is proof that Chantrey's is an outstanding restaurant and with only about 4% of Restaurants throughout the UK achieving this standard, the hotel's general manager, Geoff Lofthouse, is understandably delighted: "This is a great achievement and testament to the high quality dining we offer in Chantrey's Restaurant. We have joined an elite list of restaurants where diners know they will enjoy a fine dining experience of memorable dishes, and it is thanks to the dedicated and hard working team of chefs led by our executive chef Arwel Jones."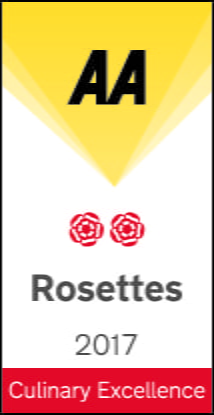 AA Rosettes are awarded solely by AA Hotel and Restaurant Inspectors with no influence from hotels, restaurants or other guides. The AA Inspector said it was a pleasure to return to The Imperial Hotel where the hospitality is engaging, service is fluid and attentive, and cuisine is impressive in concept, accuracy and skill: "The appetizer of Confit Duck Leg and Chicken Terrine served with Homemade Piccalilli and Brioche allowed for the flavours to come through with very good refinement to the dish. The Marinated Lamb Rump Entrée served with Confit Shoulder, Leek and Potato Terrine, Carrot Puree, Mint Gel, Kale and Salsify was tender and had refinement whilst delivering fully in terms of flavour, with the Mint gel having a modern twist on a traditional pairing with delightful flavour coming through. The Blackberry and Apple Torte dessert was attractively presented whilst showing excellent technical skill."
Arwel Jones, executive head chef, has been at The Imperial Hotel for over 20 years and on winning the second AA Rosette said: "This is a prestigious accolade that means a huge amount to all of us. I have always been passionate about using the very best Welsh produce and it clearly shows in our culinary offering so while I am personally delighted with this achievement it is also thanks to everyone as it's not just awarded on the food but also the service and ambience in the restaurant so it is very much a team effort."
At the AA inspection, the hotel also improved its merit score to 81%, surpassing the average of 79% for Four Star Hotels in Wales.
Chantrey's Restaurant is split between the main room and The Terrace where diners can enjoy a fine dining experience while enjoying the hotel's spectacular views across Llandudno Bay. Offering diners an evening of flawless service and the finest food in the area, Chantrey's is open to non residents who can book a table by calling The Imperial Hotel on 01492 877466.