Squeeze
tue15nov7:30 pmSqueezewith Dr John Cooper Clarke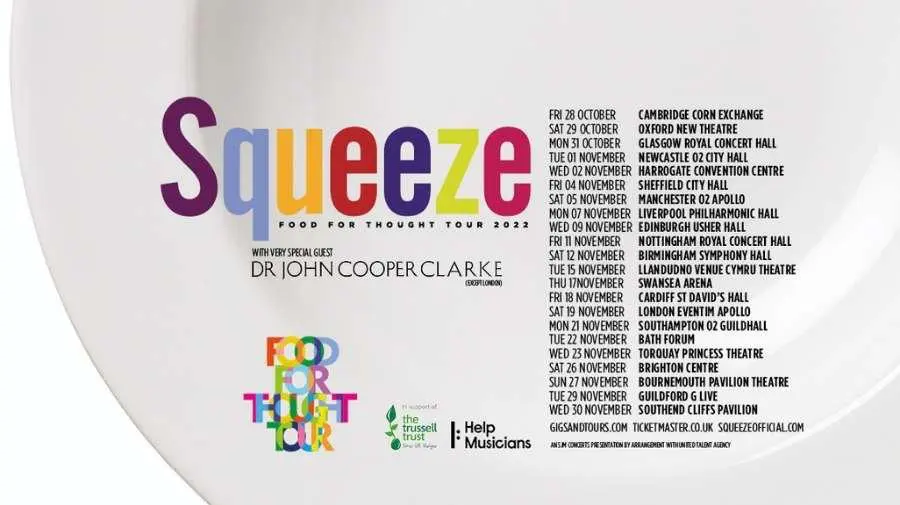 Event Details

British music legends Squeeze are back on the road for their  first major UK tour in over three years. The 22-date 'Food For Thought' tour will see Squeeze dip into their impressive list of hits and rare gems from throughout their extensive back catalogue.

Joining Squeeze on their UK tour is one of Britain's most outstanding poets – Dr John Cooper Clarke. His anarchic punk poetry has thrilled people for decades and his no nonsense approach to his work has seen his career spanning cultures, audiences, art forms and continents.
Squeeze have confirmed that they will once again be supporting anti-poverty charity the Trussell Trust, which provides emergency food and support to people locked in poverty while campaigning for change to end the need for food banks in the UK. Right now, millions of people across the country are facing a cost of living crisis as food and energy prices soar and families are feeling the biggest squeeze on incomes in a generation. We are inviting attendees on the tour to bring along food donations to the shows, where there will be collection points across the venue each night. There will also be collection buckets for any cash donations.  All donations will be distributed to people in crisis across the 1,300 food bank centres in the Trussell Trust network.  Here is a link to information on the items that are requested: https://www.trusselltrust.org/get-involved/ways-to-give/donate-food/.
Squeeze thank you in advance for your generosity and look forward to seeing you at the shows.
more