Did you know that May is National Walking Month?
Let this be the month that you discover North Wales on foot as it is the perfect destination for walkers with its sweeping mountains, glistening lakes, fabulous countryside and breathtaking coastline.  There is a walk for everyone whether it be a leisurely stroll or a strenuous hike, so here's our list of top walks which guarantee an outdoor experience to remember.
The Wales Coast Path
Wales is the first country in the world to have a dedicated footpath that follows the entire stretch of its 870-mile coastline.
390 miles of this path runs along the North Wales coastline, with 34.5 miles in Conwy, but you don't have to go far to get on it as it is literally outside The Four Star Imperial Hotel's doorstep in the seaside resort of Llandudno.
Turn right out of the hotel and the Path will take you along the Promenade up to the Little Orme where there's a newly surfaced wheelchair access path taking you out to Angel Bay, which is where you can often see grey seals basking on the rocks.  This circular walk is 5.1 miles, but you can take the Path on to Colwyn Bay if you want to go further.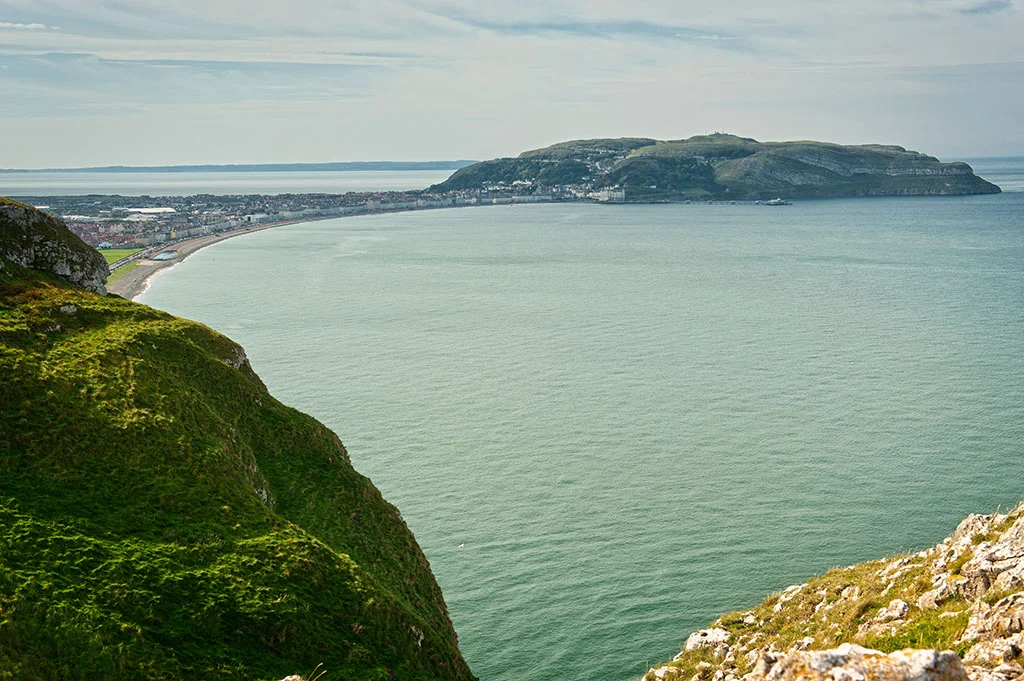 Turn left out of the hotel and you'll be walking on the Promenade towards Llandudno Pier and can then head up the Great Orme.   There are a number of Summit Trails on the Great Orme which range from 1 to 1.5 miles long or you can do a circular route of nearly 14 miles, or take one of the trails and continue along the Path on to Conwy where you can admire King Edward I's strategically built Conwy Castle and Town Walls.  Make sure you take time out on the Great Orme Summit to admire the views of Anglesey, the Isle of Man and the Lake District.
Conwy Mountain is the Coast Path's inland option with a 3 mile path.  Standing proud to the west of Conwy it has a good network of paths as well as excellent views from the summit.
You can also take part in the Wales Coast Path Walking Festival with these planned Walking Events on Saturday 4 May:
Wildflower Wander at West Shore, Llandudno, 10am
Organised by the Conwy Valley Group Wildlife Trust, this is a gentle walk along Llandudno's Promenade, coastal path, sand dunes and beach at low tide so you can find many wildflowers and wildlife which the "flower expert" will help identify.  Distance is 1 mile.
Great Orme Circular, 10am
This walk circles the Great Orme on the "invalids walk" path at the back of town through Haulfre Gardens and on to North Shore, following the coast path back around the Great Orme.  Distance is 6 miles.
West Shore Beach Clean, 10am
Get hands-on during a practical beach clean session with Keep Wales Tidy that will explore what we can all do to reduce marine litter which is a growing threat to our aquatic and coastal environment.
Great Orme and World War II training site, 10am and 2pm
This walk on the Great Orme is for military history enthusiasts to discover the importance of The Royal Artillery gunnery school, as well as admire the spectacular sea views at every point with wildflowers, dramatic scenery and Llandudno's famous Kashmiri goats.  Distance 4 miles.
The Vardre and Tower Hill, 10am
This walk follows the coast path towards Deganwy and offers fantastic views of mountains and coast, with a sunny beach and lots of history. Distance 7 miles.
Great Orme Ramble, 10.30am
This walk is a wonderful opportunity for you to discover the impressive limestone headland while you admire the spectacular views of Snowdonia and the coast.  Distance 6.5 miles.
Seashore Safari, 1pm
This family activity is run by the Conwy Valley Group Wildlife Trust and will have everyone exploring along the shoreline to discover what marine life lives on this part of the coast. Distance 1 mile.