Seen as an aid to navigating the sea for maritime pilots, the history of lighthouses goes further back than you may think.  In fact the first lighthouse was built in the harbour of Piraeus, Athens in the 5th Century BC!  And although the lighthouses in North Wales are a more recent addition, they are still steeped in history and interesting facts, with many continuing to aid vital sea navigation: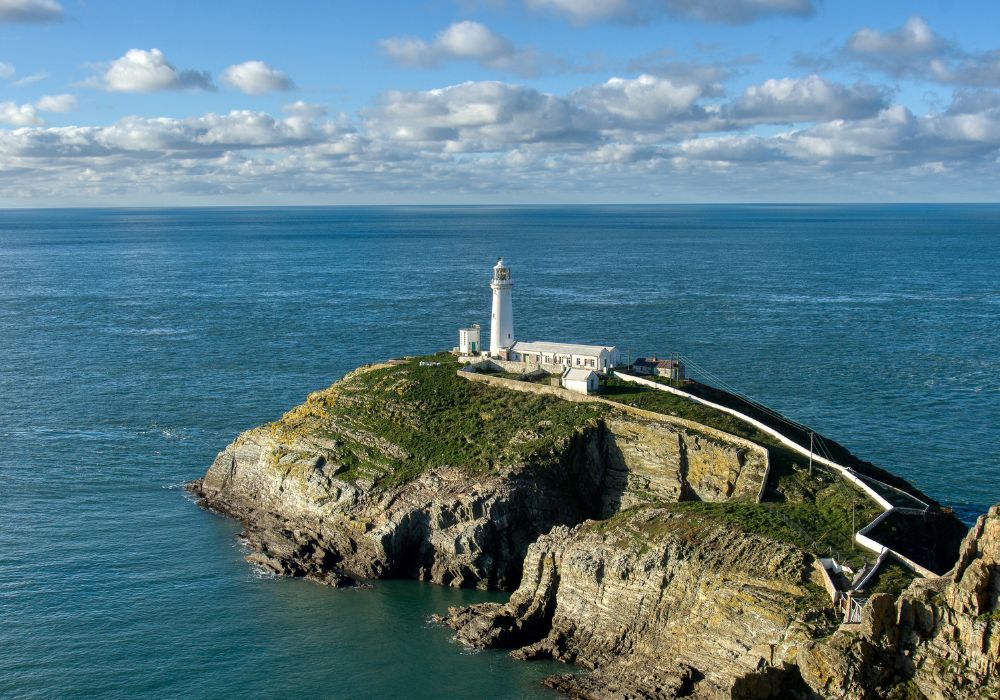 The spectacular and often photographed South Stack is a Grade II Listed building nestling on an island off Holy Island to the North West of Anglesey.  It's reached by descending the 400 steps on to an aluminium suspended footbridge which is worth the effort as you can tour the former lighthouse engine room before climbing to the top of the lighthouse which is 92 ft (28m) tall.  A petition for a patent to erect the lighthouse was first presented to King Charles II in 1665 but it took over 140 years before it was built in 1809 and was then extended in 1874 to make it taller.  Today, the white light is 197 ft (60m) above high water and flashes every ten seconds and can be seen 29 miles out to sea.  In fog, a warning blast is sounded every 30 seconds which is controlled by Trinity House Operations Centre at Harwich in Essex.  The cliffs are part of the RSPB South Stack Cliffs Bird Reserve where you can see Choughs, Peregrine Falcon, Kestrel and Puffins nesting as well as out to sea various marine mammals including dolphin, seals and just recently two Killer Whales.  Stop off at Elin's Tower, the castellated tower which was erected in 1868 as a summerhouse for the then Liberal MP of Anglesey's wife, as it is now an RSPB information centre with binoculars and telescopes primed on to the cliffs for a better view of the nesting birds.  There's also a very good café and a treasure hunt for children during the school holidays.
North Stack to the North West of Anglesey is the site of a redundant fog warning station and Trinity House, an ornate stone magazine which was built in 1861 for the storage of gunpowder for the cannon that used to fire warning shots from the cliff top to passing ships that ventured too close to the rocks. These buildings now house a bird watching observatory giving a spectacular view of South Stack lighthouse across Gogarth Bay, and the island also provides some of the best known rock climbs in Britain.  North Stack is reached via Holyhead Breakwater Country Park which is a very popular tourist destination with eleven old quarrying sites and the famous Holyhead Breakwater which was completed in 1873 and is the largest in Europe at one and ¾ miles long.
Ty Mawr lighthouse on Llanddwyn Island, Anglesey is accessible at low tide along a mile long stretch of beautiful sandy beach which is part of the National Nature Reserve of Newborough Warren.  The white-washed Ty Mawr (large tower) was built in 1845 in a tapering style of Anglesey's stone windmill towers.  Now redundant it still dominates the island standing at 33 ft (10m) high.  Llanddwyn Island is also the home of St Dwywen, the Welsh patron saint of lovers who founded a convent on the island and the remains of Dwynwen's church can still be seen today as well as the site of the first beacon, Twr Bach (little tower) which was built in 1800.
Point Lynas, at Llaneilian, Anglesey is an old oil-fired lighthouse which was erected in 1779 as a warning beacon and then rebuilt to resemble a castle by the Liverpool Docks in 1835.  It stands 95 feet (29m) above sea level at high tide and has a range of twenty mile (32km) flashing every ten seconds, although the foghorn which used to blast every 10 seconds in poorer visibility is no longer operational.  The design is unusual because the lantern is at ground level with a look-out and telegraph room above which is similar to the Great Orme Lighthouse which was also built by Liverpool Docks. The tower was also a semaphore station to signal to Liverpool shipowners of the safe return of their ships, which was replaced by morse code in 1860 and although still standing it's in private ownership so not open to the public but it's of historical importance as it was designed by Jesse Hartley, the engineer responsible for the world's first great floating dock system at Liverpool.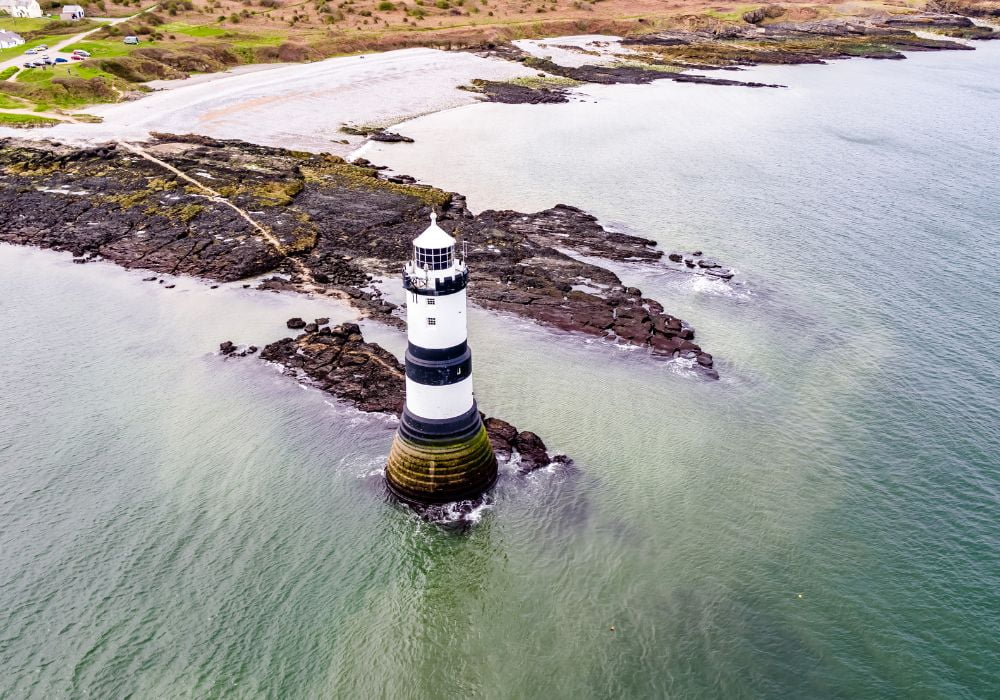 Penmon Point or Trwyn Du lighthouse, lies at the eastern tip of Anglesey between Penmon and Puffin Island.  Standing 95 ft (29m) tall it was built in 1836-38 with a stepped base to reduce the force of the water at the bottom of the tower, and a beam that can be seen 13 ½ miles (21km) away with a fog bell chiming every 30 seconds. Its not accessible but can be viewed from the pebble beach along with panoramic views of the Great Orme and Conwy or from one of the many pleasure trips to Puffin Island from Beaumaris. There's also the site of an old Priory, the Church of St Seiriol, a Grade I protected church, Penmon Dovecote and Dinmor Quarry at Penmon.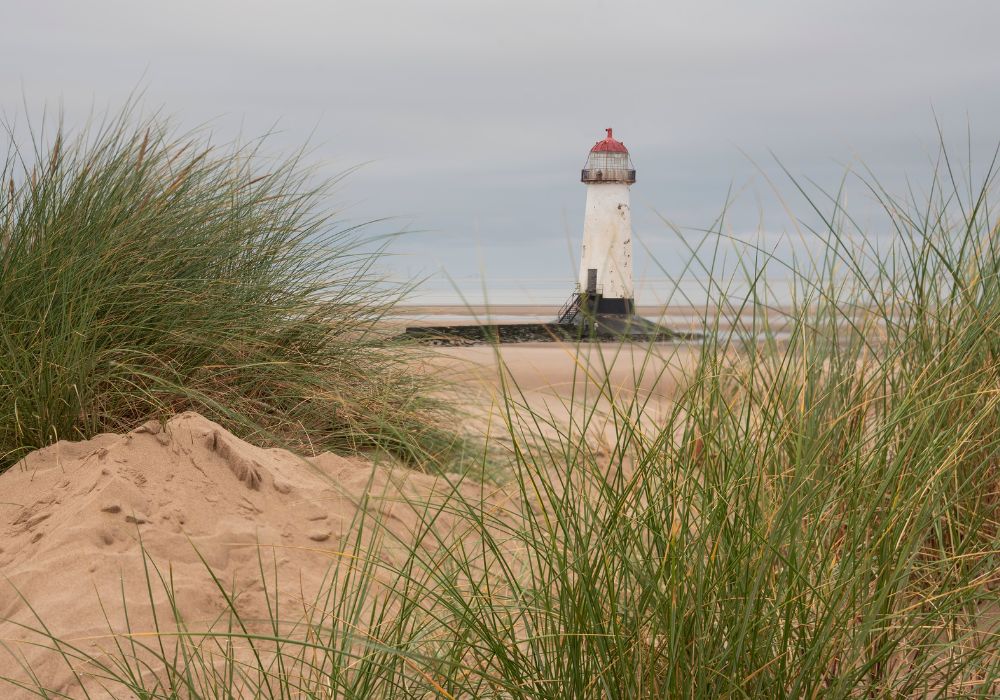 Talacre Lighthouse or Point of Ayr Lighthouse is a Grade II Listed Building on the Point of Ayr near the village of Talacre.  It was built in 1776 to warn ships entering between the River Dee and the Mersey Estuary and although it is in private ownership so not accessible you can walk out to it across the large expanse of sandy beach.
Our final lighthouse is a return to Llandudno. The Great Orme Lighthouse was constructed in 1862 by the Liverpool Docks who also built Lynas Point.  This fortress like limestone structure stands 325 ft (99m) above sea level and was operational until 1985 but the beacon's optic can be viewed at Great Orme Visitor Centre on the summit.  The Lighthouse is now a Guest House but it can be viewed from the lane off Marine Drive.