Just because you've put away the kids' buckets and spades until next year doesn't mean you can't come and play with the family in North Wales. Here are our top fun things to do with the kids in the region this winter: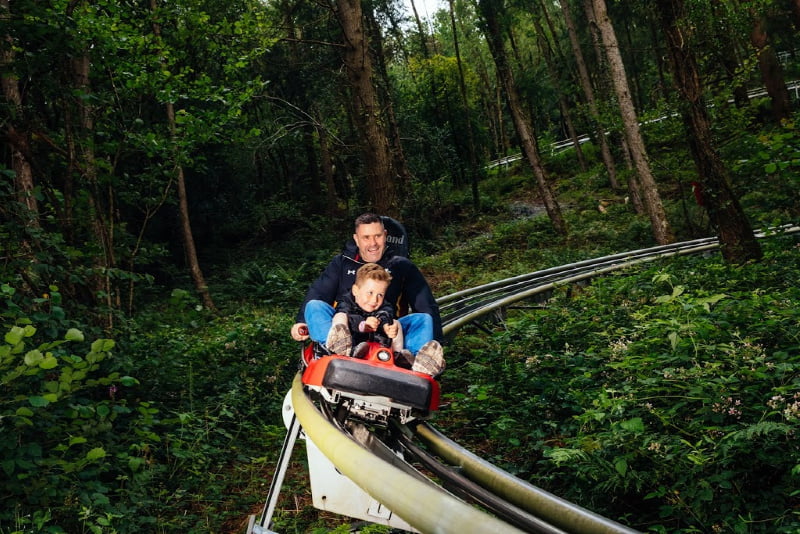 Have an Adventure
The adventure attractions the region has now become famous for aren't just for the young at heart as there are plenty of activities designed especially for younger children, which offer them a challenge while also boosting their confidence and instilling a sense of adventure as well as pride in their own abilities.  They also all promise a beaming smile at the end!
Treetop Nets, aged 3+
Treetop Nets is the highest in the world at more than 60 feet above the forest floor.  It also features the longest net walkway in Europe which winds through 250m of woodland with large trampoline like nets and tunnels allowing the whole family to run, bounce and leap between the connecting tree houses.  It's been designed to offer an amazing adventure for both children and adults.
Fforest Coaster, aged 3+
The Fforest Coaster is the only Alpine Coaster of its kind in the UK and again is aimed at families with children as young as three being able to take part on the same sledge with an adult or child aged over 9.  The coaster is based on the traditional toboggan but run on rails so it's an all year round, all-weather ride as you fly through the forest on your sledge at exhilarating speeds.
Llandudno Snowsports Centre, age 4+
Llandudno Snowsports Centre has a variety of activities for all the family. Take the chairlift to the top of the scenic PermaSnow slope and you have the choice to ski or snowboard down or even spin around on the crazy Sno-tubes.  There's also a Cresta Toboggan Run which is the longest in Britain which will have you embarking on a mid-air toboggan ride as you corkscrew through twists, turns and tunnels on the way down.
Treehoppers, aged 5 to 12
Treehoppers is all about fun between the trees but it's aimed at the smallest adventurer aged from 5 to 12. There's a tree hoppers bridge, a zip bridge, walking the plank, balancing beam, hanging logs, French hammock bridge, tyre tops, "match sticks", a cargo net, multi vine and moving vine!
Bounce Below, aged 7+
Bounce Below is the world's first subterranean playground which is housed in a disused slate cavern the size of St Paul's Cathedral!  You'll find giant trampolines, walkways, slides and tunnels all made from netting for you and your kids to play, slide, roll, jump and bounce around in.
Skyride, aged 7+
This is Europe's highest and first 5-seater Giant Swing which hoists you over 80ft high in the air as you swing over and above Zip World Fforest.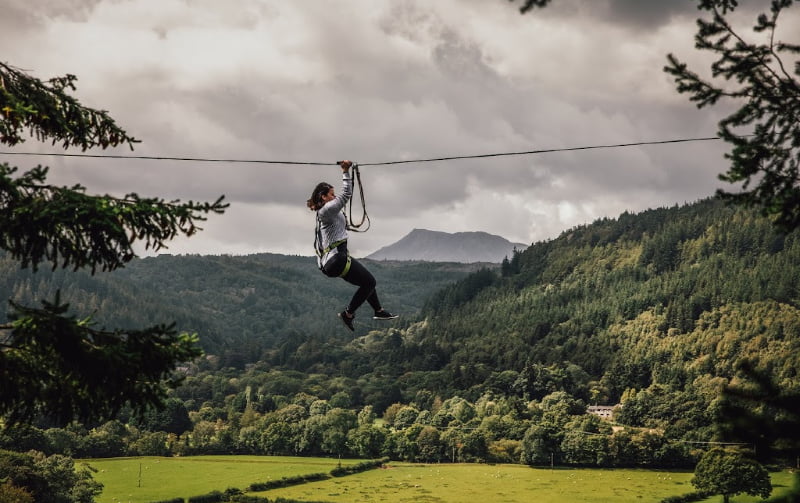 Zip World Titan, aged 7+
Enjoy a journey on the only four person zip line in Europe and reach speeds up to 70mph as you sail through the air over moor, mountain and mine at Zip World Titan.
Zip World Safari aged 9+
This is a safari with a difference as you journey 60ft high through the trees on 23 zip lines and 6 other ropes course challenges include rope bridges.
Zip World Velocity, aged 10+
This is the longest zip line in Europe at a mile long and the fastest in the world with riders exceeding 100mph at heights of 500ft.
Zip World Caverns, aged 10+
This is a zip line adventure with a difference as it's housed in a disused slate cavern.  As well as zip lines you'll also find rope bridges, obstacles and tunnels.  There's also a nerve-racking ending if you dare!  Navigate a 8m long gap in the rock by opting to either "walk the line" and scale the 25m drop using just a 12mm wide rope to stand on, or to inch your way, swing by swing using the 14-rung monkey bars.  There's then a path consisting of 36 steps which take you 30m above ground for your final challenge – the steepest zip wire in the UK!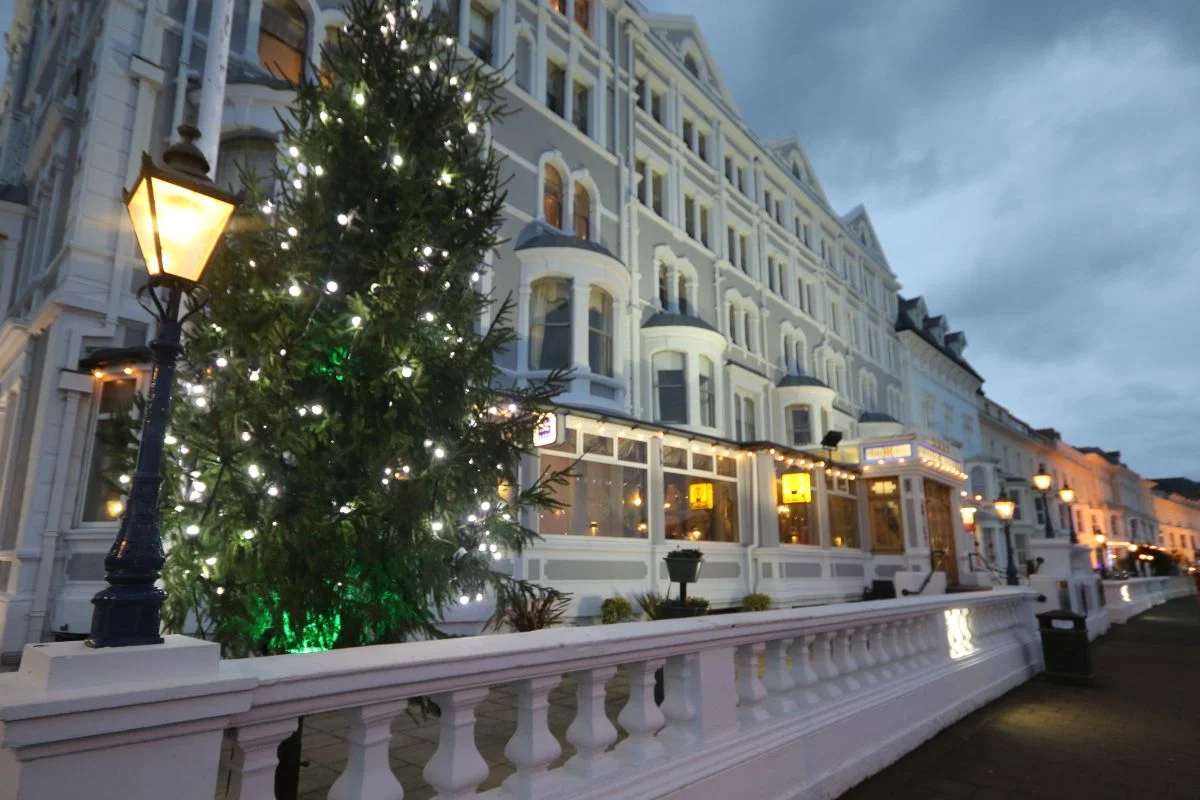 Get into the Festive Spirit
Christmas is a magical time for children and there are plenty of opportunities for the kids to have a special meeting with Santa as he travels around North Wales on his sleigh or celebrate the festive season at one of these fantastic events:
Llandudno Christmas Extravaganza
A family fun event set in the heart of Llandudno. You will find food, drink, gifts, funfair, entertainment and more.
Zipmas 
Head to Zip World Llechwedd to meet Santa in their underground Christmas Grotto. Hop on board the cable railway to the famous Victorian Llechwedd slate mine where Santa and his team of Elves will be ready to greet you with a wrapped gift and your very own Welsh slate bauble to decorate at their craft station. You can even give him your Christmas letter!
Tickets from £18 per person.
Santa Special Trains at Rhyl Miniature Railway, 11th – 24th December
Enjoy a train ride on Britain's oldest miniature railway line. Kids get to meet Santa after the ride and will receive a special present.
Children £12 each Adults £4 each.
Christmas Memories Walk  – 4th December
Enjoy a 4 mile  family walk through a Christmassy Llandudno in aid of St Davids Hospice. The walk starts at Craig-Y-Don Community Centre, from 6:30pm, and takes you through the Llandudno Christmas lights and along the Promenade and finishes in the Hospice grounds.
Entry is £16 for adults/ £12 children/ £45 a family (2 Adults & 2 Children under the age of 16) Walkers under the age of 16 must be accompanied by an adult.
As part of the entry fee, everyone will receive a limited-edition St David's bobble hat to keep you warm and a Christmas tree bauble to hang on your Christmas tree as a memento of the walk.

Aladdin, 11 December – 2nd January
Take the family to Venue Cymru to see the classic pantomime Aladdin this Christmas.  It features all the ingredients of the perfect panto – a fabulous cast and orchestra, laugh-out loud comedy, bundles of audience participation, stunning scenery and special effects, beautiful costumes and of course plenty of boos and hisses for the family to enjoy!
---
If we've whet your appetite to come and play with the family in North Wales over the Winter, take advantage of one of our Special Breaks so you can also have a memorable stay in Llandudno.