There is nothing more quintessential for a traditional seaside holiday in North Wales than choosing a destination that boasts a pier, and at Llandudno we're fortunate to have not only the longest pier in Wales but also one of the UK's finest.
The history of piers dates back to a time of travelling by steamship in the 1800s.  Steamships were a major driver in the first wave of international trade, as well as being responsible for opening up the holiday market to new and unexplored destinations in the UK, which was then developed further with the introduction of train travel.
Piers stand as a powerful reminder of the achievements of Victorian engineers.  Originally constructed as simple wooden landing stages for boat trips, they soon developed into entertainment venues with ornate pavilions due to the increase in holidaymakers and they became fashionable for an "evening promenade".
Llandudno's first Pier is also testimony to Victorian entrepreneurship as it was built by the St George's Harbour and Railway Company as part of an ambitious scheme to build a major port in the bay.  The 242 ft long pier opened in 1858 but sadly suffered severe damage in the Royal Charter Storm in 1859 which meant it was only suitable for steam ships at high tide so it was eventually demolished in 1876.
In the same year, Llandudno Pier Company started the build on the present pier and standing at 1,234ft it opened a year later boasting an unusual design feature of a 45 degree turn a third of the way down and two entrances.  In 1884, an inward extension to the same design was opened as well as an extension which took the pier's length to today's 2,295 feet.  In 1886 a 2,000 seat Pavilion Theatre with three stories, a swimming pool and a flamboyant cast-iron veranda were added, although the pavilion was sadly burnt down in 1994.
The pier's extension and its entertainment venue definitely helped Llandudno become a popular seaside resort.  In 1890, the New North Wales Steamship Company, one of the main operators within the pleasure cruiser market, regularly brought holidaymakers from Liverpool to Llandudno and Menai Bridge.  The company also ran shorter cruises on the St Silio around the North Wales coast from Llandudno and in the 1970s there was regular a ferry to the Isle of Man for day trips.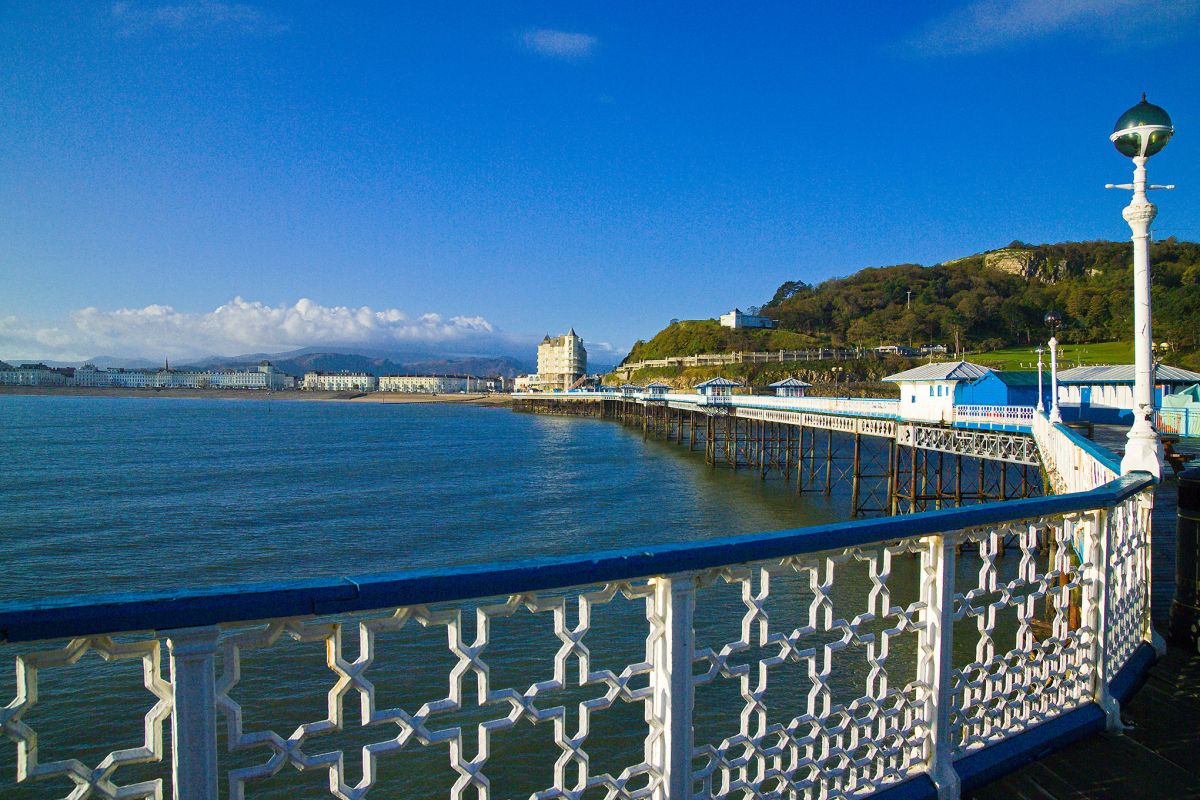 Often described as a Maharajah's palace floating on a lake with its spectacular wrought iron balustrades and lattice work railings, the Pier was awarded Grade II listed status in 1969, and was bought by its current owner Tir Prince Leisure Group in May 2015 who have invested heavily.  There's an improved entrance and they've undertaken comprehensive and expensive restoration work so the pier is now a focus of much pride.
Today, Llandudno Pier stands majestically into the sea with its elegant kiosks at the neck and larger octagonal kiosks at the head.  It offers visitors an array of shops and attractions for all the family, and in the summer months you can continue the tradition of taking a pleasure cruise from its landing stage.
If you feel like visiting some more piers during your holiday in North Wales then we recommend a trip to Bangor which has the impressive 1500ft Garth Pier stretching out into the Menai Strait, or there's Beaumaris Pier on Anglesey which opened in 1846.  While short in length at only 570ft it packs a punch with the tourists!  In the Summer you can catch a pleasure cruise around Puffin Island, down the Menai Strait or you can try sea fishing.  The pier is also a hot spot for crabbing and there's a shop at the pier entrance selling crabbing lines, buckets and bait.
Start planning your seaside holiday in North Wales. The Imperial Hotel is the perfect base from which to explore Llandudno and all its historic sites.