There's plenty to explore in the seaside town of Llandudno, North Wales, but how exactly is the best way of exploring this beautiful side area of Wales? We will tell you! From bus tours, to scenic road trip routes, we have compiled a list of tour ideas to ensure you explore the best of what Llandudno has to offer. Let's get started! 
City Sightseeing Bus 
First off, let's hop onto bus tours. In Llandudno, there are City Sightseeing Buses which provide a Hop-On Hop-Off service. There are three routes you can choose from, including the blue, red or blue and red route. On board, you will be able to travel through the nearby shops and major sights, whilst also listening to an audio guide in English, ensuring you hear all about the history of the area.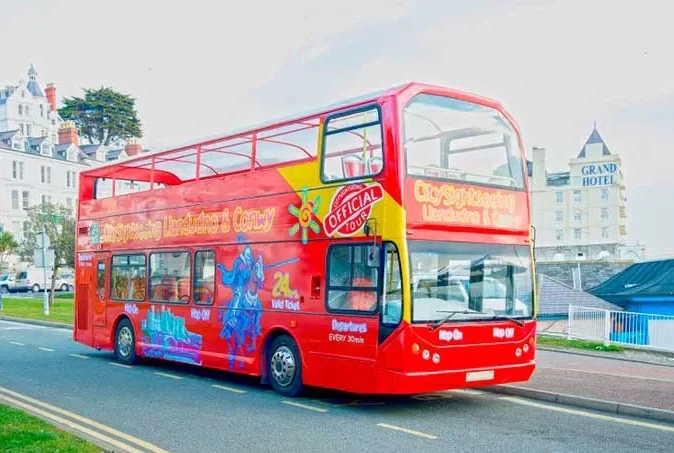 You can also get the opportunity to capture the spectacular views of the Great Orme and Llandudno Pier. When you buy a ticket, this is flexible for up to 12 months. This bus runs up to every half an hour, so you can rest assured that you'll get the opportunity to hop on. 
Adventure Tour Snowdonia
To ensure you find the perfect must-visit locations in and around Llandudno, Adventure Tour Snowdonia offers daily sightseeing, cultural and historical tours. Their top sightseeing tours include Snowdonia and the 3 Castles, plus the Portmeirion, Castles and Snowdonia Tour. 
Both tours allow you to dive into the historical past of Llandudno and areas of North Wales, whilst also capturing the beautiful natural scenery, such as the Great Orme, beaches and views of Snowdon Summit. 
Llandudno Boat Trip
Setting off from Llandudno Promenade, the Sea Jay and Seabourne boat trips allow you to capture the architecture of Llandudno Pier, passing through the caves, coves, lighthouse and the natural beauty of the Great Orme. Each trip can take about 25 minutes, making it a great short trip on sea, and gives you a new way to experience the views of Llandudno. 
There is no booking needed. All tickets can be purchased from the boat on the day of travel. 
By Train
Alternatively, you may want to travel without a tour guide and hop on a train to capture the local sites via this type of transport. There are many local train stations close to Llandudno, such as Llandudno Junction and Conwy, which will allow you to explore the areas of Blaenau Ffestiniog too! 
Tours By Locals
If you prefer tours on foot, there are locals who offer a touring experience. Areas include Conwy and Llandudno, leaving you to grasp a greater understanding of the history of these areas. 
Snowdonia, Bodnant Gardens & Castles 
This is a private group tour, where you get the opportunity to explore areas of Snowdonia, Bodnant Gardens and just some of the castles North Wales has to offer, running through an 8 hour trip. Included in the trip is an expert local guide with extensive knowledge of the area that will be explored, a driver, and company insurance too.
Highlights of the areas you will get to explore include Conwy Valley, Swallow Falls and stately homes. 
Hopefully, this has given you a plethora of ideas on how you are going to explore Llandudno and the local area. If you still need to book a place to stay and are thinking of Llandudno hotels, take a look at our available rooms. We hope to see you soon!