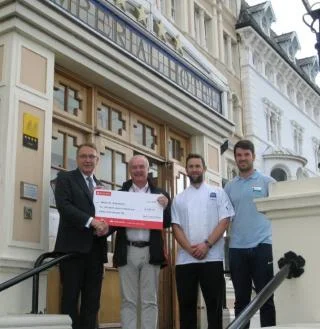 Geoffrey Lofthouse, general manager; Arwel Jones, executive head chef and Rhys Jones, fitness instructor raised £2,783.75 for the Wales Air Ambulance in their 300 mile cycle challenge from Hampshire to Llandudno in June.
Despite the odd burst tyre, cycling into head winds and climbing over 4,500 feet high, the three completed their challenge in just three days.
Geoff Lofthouse said:  "This challenge certainly put us through our paces and that's despite all three of us taking part in plenty of cycle races, but knowing how vital the Wales Air Ambulance needs our support along with the camaraderie and banter between us it kept us going, although I do admit Llandudno was a very welcome sight!  We're delighted to have raised over £2,780 for the charity and want to thank our guests, staff, suppliers and of course family and friends who sponsored us."
The cheque was presented to Medwyn Hughes, community coordinator for the Wales Air Ambulance:  "we are so grateful to The Imperial Hotel cyclists and are indebted to them and everyone else who fundraises for us.  It costs £6 million every year to keep the helicopters flying and with no funding from the National Lottery or the Government every single penny raised is not only crucial but also life changing."
To support the Wales Air Ambulance visit www.walesairambulance.com, donate by telephone at 0844 85 84 999 or text HELI03 £3 to 70070.