The award-winning Imperial Hotel is one of the finest wedding venues in Llandudno.
With its impressive Victorian architecture, stylish décor, unsurpassable attention to detail, outstanding reputation for personal service and award winning cuisine, The Imperial offers an intimate and memorable occasion.
We have 3 elegant suites, licensed for Civil Ceremonies and Civil Partnerships which can accommodate 120 guests for a Wedding Breakfast. There are 4 excellent Wedding Packages to suit all occasions but we can also design a wedding day around the bride and groom's own personal specifications with the help of our award-winning chefs and our experienced Wedding Co-ordinators.
By holding only one wedding a day you have our undivided attention, and will be appointed your own dedicated and experienced Wedding Co-ordinator who will help you plan from the beginning a unique, personalised wedding ceremony right down to the day with final touches. This helps create not only a stress free occasion but one that is full of magical and memorable moments.
For further information regarding weddings at The Imperial Hotel, please contact us on 01492 863916 or email us at [email protected]
3 elegant suites licensed for Civil Ceremonies and Civil Partnerships
Catering for Wedding Breakfasts with up to 120 guests
Excellent Wedding Packages to suit all occasions
Flexibility and experience to organise bespoke Wedding Celebrations
Award winning cuisine
Your own dedicated Wedding Co-ordinator to assist in the planning and on the day of your Wedding
Complimentary accommodation for the happy couple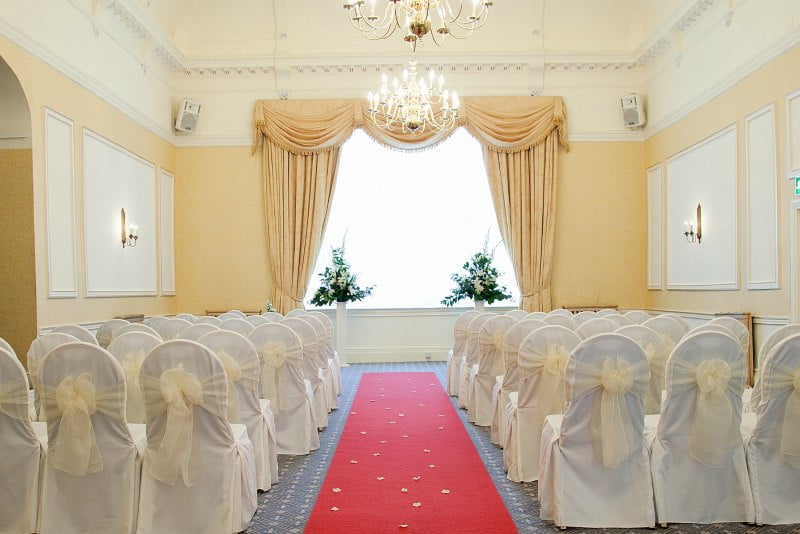 Our Award-winning Head Chefs ensure our Wedding Breakfast Menus offer the Bride and Groom a selection of the finest food using the freshest seasonal Welsh produce.
Choose one dish from each course for all guests to create a delicious 3 course Menu including coffee and chocolates for the Reception.
Children may opt for half portions of the Adult Menu or choose from the Little People's Menu – please ask for details
Call one of our dedicated and experienced Wedding Co-ordinators on 01492 863916 to discuss your requirements or to make an appointment.
Pressed Ham Hock Terrine
Homemade Piccalilli served with Mixed Leaves
Compressed Watermelon
Mango Sorbet and Mint Gel
Smoked Salmon
Pickled Beetroot, Horseradish
Goat's Cheese and Red Pepper Terrine
Black Olives, Watercress, Pesto Dressing
Chicken Mushroom and Tarragon Ballantine
Tomato Jam, Baby Gem Lettuce, Crispy Bacon
Roast Sirloin of Welsh Beef
Parsley Mashed Potatoes, Carrots, Green Beans, Bordelaise Sauce
Grilled Fillet of Salmon
Saffron Potatoes, Braised Pak Choi, Roast Fennel, Crayfish Cream
Breast of Free-Range Chicken
Dauphinoise Potatoes, Spinach, Sticky Red Cabbage, Tarragon Cream Sauce
Roast Leg of Welsh Valley Lamb
Rosemary Mashed Potato, Roast Carrots and Parsnips, Redcurrant Jus
Twice Cooked Pork Belly
Confit Potato, Roasted Root Vegetables, Cider Jus
Vegetarian Guests
A selection of vegetarian dishes are available – please ask for details
Lemon Tartlet
Italian Meringue, Blackberries
Raspberry Cheesecake
Summer Berry Coulis, Vanilla Cream
Cherry Bakewell Tart
Vanilla Sauce, Clotted Cream Ice Cream
Dark Chocolate Delice
White Chocolate Crumb, Mint Chocolate Ice Cream
If you need help planning your wedding, you may find our blog article on the key steps to planning your perfect day.
Anyone planning a dream wedding simply cannot miss Venue Cymru's Wedding Fayre on Sunday 26 April 2020.
It's the "one stop shop" as the event promises to have everything you need for the most perfect day— the best in beautiful wedding dresses, menswear, florists, cakes, cars, table and venue decorations and much more.
The event is free to attend and is on from 11am to 4pm so we look forward to seeing you there!
You can download our wedding brochure below or request a hard copy from us for free by clicking here