North Wales is fast becoming the destination of choice for an adventure holiday, and with miles and miles of beautiful coastline, inland rivers and lakes it's naturally the perfect place to take to the water for a memorable adventure with friends or family.
Surfing
No need to wait for the surf at Surf Snowdonia as this major attraction has the longest man-made surfable waves on the planet so it's ideal for beginner, intermediate and even experienced surfers.
If you've never surfed before don't worry as the Surf Academy offers 90 minute lessons which promise to get you riding the waves in just one lesson!  They have a range of boards available to hire but for the beginner lessons board hire is included in the cost.
If surfing isn't your thing then there's also the Crash and Splash lagoon – a watery assault course which will see you grappling with giant spinning balls, monkey bars, climbing walls, balance beams and rope bridges – it'll certainly test not only your agility and balance but also your determination to the limits!  You'll finish off with The Blob which catapults you into the air with a spectacular landing into the water.
There is a minimum age limit of 12 on the Crash and Splash and The Blob but there is a slightly modified family version which excludes The Blob which is suitable for children aged 5+.  Helmet and buoyancy aids are included in the price and wetsuits are available to hire.
Coasteering
This is an adventure like no other as you'll climb, scramble, swim, jump and explore your way around the sea cliffs with experienced guides – perfect for adventurers that want something different and fun to do.
The coasteering capital of North Wales is the island of Anglesey because it has miles of unspoilt coastline and plenty of hidden coves – if you haven't tried it, it's definitely on our list of things to do.  Find out more about this thrilling experience from these top coasteering adventurers:
Coasteering activities are normally half a day but some offer full day experiences.  Wetsuits, buoyancy aids and helmets are normally provided so all you need is your swimwear, thick socks, trainers and a towel.
Learn to Sail
Look out to sea in the summer and you'll see many children, families and friends enjoying a sail in a dinghy or a cruise on a yacht, and if you're slightly envious then why not take to the high seas with a taster session or book some sailing lessons.
Conwy Yacht Charter offers day trips or shorter voyages with a choice of excursions.  Sail around the Great Orme or head over to Anglesey for a spot of birdwatching and seal and dolphin gazing near Puffin Island.
Plas Menai at Felinheli is an officially recognised RYA (Royal Yachting Association) centre offering sailing lessons.  Level 1 is the perfect introduction giving you the basic fundamentals including sailing up, down and across the wind as well as how to recover from a capsize, while Level 2 teaches you about rigging, launching, sailing in all directions and basic sailing theory.
Plas Menai also runs an adventure activity club, Menai Dragons.  Aimed at 8-17 year olds this is all about having fun outdoors, learning new skills and developing confidence.  While the clubs are bookable on a monthly basis, they also have taster sessions on Saturday mornings or Saturday afternoons.
White Water Rafting
White water rafting normally conjures up an image of the Grand Canyon or the Zambezi River at Victoria Falls, but in fact you don't need to travel so far as you can have an adventure on the rapids of North Wales!
The National White Water Centre is based just outside Bala offering an exhilarating and fast paced ride through the crashing waves and boulder strewn rapids of the fast flowing River (Afon) Tryweryn.
A full session (age 12+) gives you four runs of the river, while a taster session is 2 runs.  There's also a Tryweryn Safari which is a more relaxing journey suitable for families (age 10+).
The centre also offers Orca Adventures – a two-person inflatable Orca which is a step up from White Water Rafting and is tailored to suit your skills so no experience is necessary, and Paddling in either a canoe or kayak throughout the year.
A Voyage on the Wildside
If you want to experience a bit more speed and see North Wales' wildlife up close then you'll love the wildlife tours offered by Puffin Island Rib Tours.
Taking visitors from Conwy Harbour it offers three expertly guided excursions – a Puffin Island Adventure, A Great Orme Sea-Life Voyage and a Menai Strait Expedition all in the safety of a fast rib.
The first two tours are just over an hour long while the Menai Strait trip which takes you down the straits to Nelson's Column and back up past Bangor Pier and Beaumaris is over 2 hours.
Reaching speeds of up to 25 knots (about 27 miles an hour), the Rib can seat up to 12 people at a time.
A Vintage High Sea Cruise
If all this sounds like great fun but you'd prefer a more leisurely cruise, then an excursion on the MV Balmoral is for you.
This historic ship provides all the necessary comforts of modern day cruising including a dining saloon and bar and as each excursion has been meticulously mapped out it promises a great coastal experience for all passengers.
From Llandudno Pier you can enjoy a trip around Anglesey or a cruise down the Menai Strait under the Island's two famous bridges, as well as trips to the Isle of Man and across to Liverpool.
The MV Balmoral will cruise into Llandudno on Saturday 24 June offering regular trips until Wednesday 19 July, and then she returns on Wednesday 6 September until Tuesday 19 September.
For more local cruises, there's Sightseeing Cruises which run the passenger boats, the Queen Victoria and Princess Christine on the River Conwy.  These trips are not only thoroughly enjoyable and informative but also provide an alternative view of the historic medieval town of Conwy and its famous Castle along with views of Snowdonia and the surrounding area.
Tie all these watersport activities in with one of The Imperial Hotel's fantastic breaks and you'll have the perfect water adventure in Llandudno this summer.
Discover the North Wales Coast aboard the Paddle Steamer Waverley and recapture the days of the romance of the North Wales steamers.
The Waverley is one of the world's greatest historic ships and is the last sea-going paddle steamer in the world – magnificently restored with towering funnels, timber decks and gleaming varnish and brass. You can see and hear the mighty steam engines as they propel the paddles that take the Waverley majestically through the sea.
Visit the website for details on the planned trips leaving Llandudno Pier.
Bodyboating combines elements of surfing, kayaking and swimming and it's a completely unique, memorable and accessible way to experience the water.
The boats are designed to be used by anyone of any skill level. and they can be used in the sea on a lake or down a river. Just lie down, paddle with your hands, and hold on through the rapids!
KiteSurfing
KiteSurfing is a combination of wakeboarding, snowboarding, windsurfing, surfing, paragliding, skateboarding and sailing so it's not only action-packed but classed as an extreme sport.  Head over to FunSport in Rhosneigr for a lesson which range from one hour to five hours on a one to one basis or in a group.
There's plenty more to discover in North Wales so if you're looking for a family holiday, some adventure or want to know more about Wales' Heritage, visit The Imperial Hotel's blog.
Summary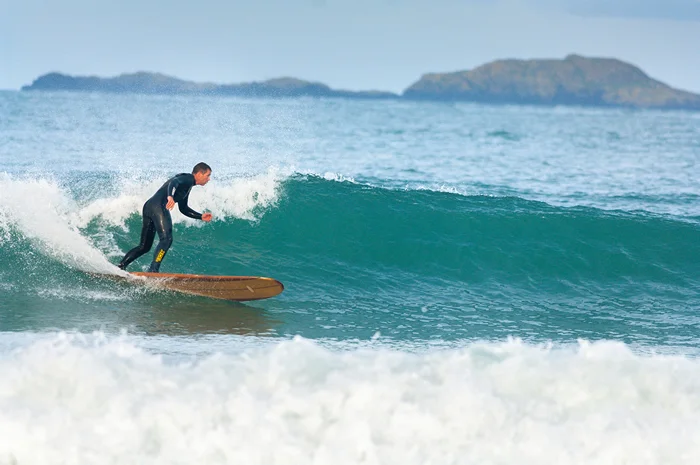 Article Name
Enjoy a wet and wonderful adventure in North Wales
Description
North Wales is fast becoming the destination of choice for an adventure holiday, and with miles and miles of beautiful coastline, inland rivers and lakes it's naturally the perfect place to take to the water for a memorable adventure with friends or family.
Author
Publisher Name
Publisher Logo